Federal Arbitration Court, the Arbitration Court of Kaluga, Kaluga Region Prosecutor's Office, Ministry of Internal Affairs of the Kaluga region, Ministry of Economic Development of the Kaluga region, Ministry of Culture and Sports of the Kaluga region, Ministry of Health of the Kaluga region, Department of Capital Construction of the Kaluga region.
---
Letter of thanks
---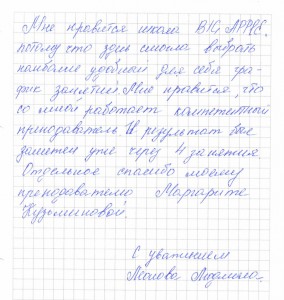 Lyudmila Leonova
I like the Big Apple school because here I could choose the most convenient studying schedule. I like to communicate with competent teachers. And I noticed results even after four lessons. Special thanks to my teacher, Margarita Kuzminova.
Respectfully yours, Lyudmila Leonova
---
Elena Naumova
We study in this language school more than six months. Our teacher is Kseniya Viktorovna Mashukova. Our studying process is easy and comfortable. The knowledge base we have acquired for such a short period of time helps us substantively communicate with our foreign colleagues. We can now read our emails without translators, engage in simple dialogs in a gym. We do homework to consolidate the level of knowledge. Our group has already formed, and we hope to continue the studies further.
The group of Kseniya Mashukova
Elementary course:
Elena Naumova
Ekaterina Utesova
Nadezhda Tsitko
Elena Sonina
Kirill Zakharov
---
Samir Gasymov
The German language course A1 considerably increased my work motivation. Before this course I understood and knew some phrases, words, technical terms, and everything that was related to my work in programming and technical specifications. Attending the DE courses, I realized how useful this study is, and then I was deeply involved in training. My goal is to speak at least elementary and understand what people say at work. In my everyday duties I often need to collaborate, study, and coordinate some projects with foreign colleagues.
The level of study process in the Big Apple language school completely satisfies requirements and my expectations.
The teacher Olga Zvereva is a highly qualified expert. She is provides flexible schedule, open to questions. She is always ready to explain anything if you do not understand the topic, and she can even work overtime for that. The whole atmosphere of the courses is very friendly. You can see the sults even after one month. The lessons are entertaining. The time management during classes is well-planned and optimal.
Samir Gasymov
---
D. Myagkov
I am glad to attend these classes in the Big Apple language school. The teacher Olga Zvereva conducts classes at 5+. I would love further develop my German language skills in this school and especially with that same teacher.
D. Myagkov
---
Mikhail Smiryagin
I didn't know anything about the Big Apple school before I came there for German language course. I liked everything from my first visit to the classes, especially the friendliness of people. Our teacher was Olga Zvereva. However serious was the study topic, there was always the atmosphere of positiveness. I like studying process and think to continue especially in the Big Apple school!
Mikhail Smiryagin
---
M. Blinov
I like studying in this school as it is conveniently located in the city center. However I still have a problem to resolve – how to combine the studies with my three-shift work.
The teacher Olga Zvereva conducts group classes and has individual lessons.
She is friendly, communicative. She can arouse interest to lessons and create required atmosphere.
This course shows me very positive results and helps in work.
M.V. Blinov
---
G. Belkov
I attend the Big Apple language classes for several months. In this language school there are friendly and responsive teachers. I especially like the way of studying by our English teacher Alina Kalenbet. She conducts classes with responsibility. Having studied in this school, I started understanding our foreign colleagues. And my teacher of foreign language helped me learn much more about English.
I'd like to express my thanks to the Big Apple school.
G.A. Belkov